Dr. Bryan D. Petryszak, DMD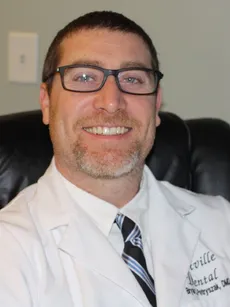 Dr. Bryan D. Petryszak graduated from the University of Pittsburgh in 2002 and went into practice with Dr. O. Boyce McDivitt. At the University of Pittsburgh Dr. Petryszak was awarded for his achievements in prosthodontic dentistry, the making of crowns and bridges. After graduation he expanded his knowledge of TMJ/TMD at the Pankey Institute in Key Biscayne, FL and has been treating joint disorders and complex occlusal problems since 2003. In 2006 Dr. Petryszak completed surgical training for dental implants from The Misch Institute in Detroit, Michigan. He was also awarded his Fellowship in Implant Dentistry from The International Congress of Oral Implantologist for his proficiency in implant placement and bone regeneration.
Dr. Petryszak has also been awarded his Fellowship in The Academy of General Dentistry for his commitment to continuing education in the field of dentistry. He has over 450 hours of continuing education in all aspects of dentistry. Dr. Petryszak and his staff continue to educate themselves, exceeding the minimum requirements in the profession. Through out the year this commitment to education allows Portville Dental to provide the highest level of care around.
When not in the dental office Dr. Petryszak enjoys coaching, hunting and spending time with his wife and two children.