My Blog
Posts for tag: orthodontics
By Portville Dental
December 17, 2018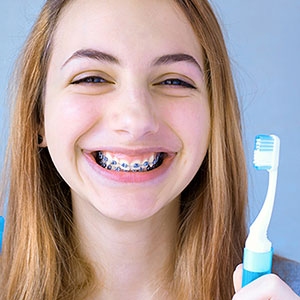 There are a few things you need to do — and not do — while wearing braces: avoid hard or sticky foods, for example, or wear protection during sports to avoid injury. There's one important thing, though, that should be at the top of your list — extra attention to daily brushing and flossing.
The fact is your risk for developing tooth decay or periodontal (gum) disease increases during orthodontic treatment. This is because the braces make it more difficult to reach a number of locations around teeth with a toothbrush or floss. Bacterial plaque, the source for these dental diseases, can subsequently build up in these areas.
Teen-aged orthodontic patients are even more susceptible to dental disease than adults. Because their permanent teeth are relatively young they have less resistance to decay than adults with more mature teeth. Hormonal changes during puberty also contribute to greater gum disease vulnerability.
There are some things you can do while wearing braces to avoid these problems. Be sure you're eating a nutritious diet and avoid sugary snacks or acidic foods and beverages (especially sports or energy drinks).  This will deprive bacteria of one of their favorite food sources, and the minerals in healthy food will contribute to strong enamel.
More importantly, take your time and thoroughly brush and floss all tooth surfaces (above and below the braces wire). To help you do this more efficiently, consider using a specialized toothbrush designed to maneuver around the braces. You might also try a floss threader or a water irrigator to remove plaque between teeth. The latter device uses a pressurized water spray rather than floss to loosen and wash away plaque between teeth.
Even with these efforts, there's still a chance of infection. So, if you notice swollen, red or bleeding gums, or any other problems with your teeth, visit us as soon as possible for an examination. The sooner we detect and treat dental disease while you're wearing braces, the less the impact on your future smile.
If you would like more information on taking care of teeth while wearing braces, please contact us or schedule an appointment for a consultation. You can also learn more about this topic by reading the Dear Doctor magazine article "Caring for Teeth During Orthodontic Treatment."
By Portville Dental
December 14, 2016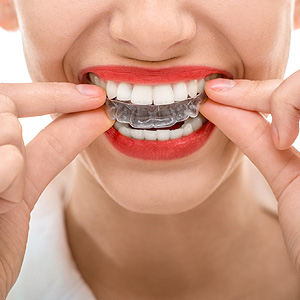 Moving your teeth to a more functional and attractive alignment is a big undertaking. You can invest months — even years — and a lot of expense to correct a bad bite. But all that effort could be for nothing if your teeth return to their original positions.
The very aspect of dental physiology that makes orthodontics possible can work against you in reverse. Your teeth are not actually rigidly fixed in the bone: they're held in place by an elastic gum tissue known as the periodontal ligament. The ligament lies between the tooth and the bone and attaches to both with tiny fibers.
While this mechanism holds the teeth firmly in place, it also allows the teeth to move in response to changes in the mouth. As we age, for example, and the teeth wear, the ligament allows movement of the teeth to accommodate for the loss of tooth surface that might have been created by the wear.
When we employ braces we're changing the mouth environment by applying pressure to the teeth in a certain direction. The teeth move in response to this pressure. But when the pressure is no longer there after removing the braces or other orthodontic devices, the ligament mechanism may then respond with a kind of "muscle memory" to pull the teeth back to where they were before.
To prevent this, we need to help the teeth maintain their new position, at least until they've become firmly set. We do this with an oral appliance known as a retainer. Just as its name implies it helps the teeth "retain" their new position.
We require most patients to initially wear their retainer around the clock. After a while we can scale back to just a few hours a day, usually at nighttime. Younger patients may only need to wear a retainer for eighteen months or so. Adults, though, may need to wear one for much longer or in some cases permanently to maintain their new bite.
Although having to wear a retainer can be tedious at times, it's a crucial part of your orthodontic treatment. By wearing one you'll have a better chance of permanently keeping your new smile.
If you would like more information on caring for your teeth after braces, please contact us or schedule an appointment for a consultation. You can also learn more about this topic by reading the Dear Doctor magazine article "The Importance of Orthodontic Retainers."
By Portville Dental
January 10, 2016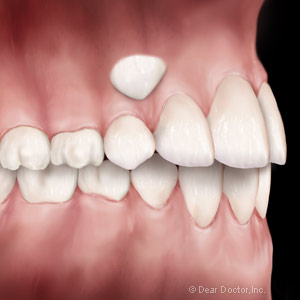 The final emergence of permanent teeth in late adolescence marks the end of a long process beginning in the womb with the formation of our primary or "baby" teeth. Permanent teeth form in a similar way as buds high in the jaw, continuing to grow until the primary teeth ahead of them fall away. The crowns of the new adult teeth eventually break through the gum tissue and emerge (erupt) into view.
At least, that's normally what should happen; sometimes, though, a tooth may only erupt partially or not at all, a condition known as impaction. The crown remains partially or fully submerged below the gum line, causing the tooth to press against other teeth, potentially damaging them. It can also make periodontal (gum) tissues adjacent to the area more susceptible to disease. Wisdom teeth are especially prone to this kind of impaction, to the extent they're often surgically removed (extracted) to avoid future problems to adjacent teeth or the bite.
Upper canines (the "eye teeth" normally located directly below the eyes) are also subject to impaction. But because of their highly visible position, extracting them could have an adverse impact on the patient's smile. In this case, we often attempt instead to expose and ultimately save the tooth.
Before taking any action, however, an orthodontic examination is conducted first to pinpoint the exact position of the impacted tooth and determine how that position might affect moving teeth into a more desired alignment. If we find the impacted canine is in a workable position, the next step is to surgically uncover the tooth from the gum tissue (a minor procedure usually performed by an oral surgeon or periodontist). Once exposed, an orthodontic bracket with a small attached gold chain is bonded to the tooth. The gums are then sutured back into place with the chain exposed and allowed to heal.
At some future point an orthodontist will attach the chain to orthodontic hardware that will pull the impacted tooth into proper position over several months. As a result, the upper canine becomes "un-impacted"; the dangers to surrounding teeth and tissues are also reduced. And, just as important, we can preserve the tooth and with orthodontics achieve an attractive, normal smile.
If you would like more information on the effects and treatment of impacted teeth, please contact us or schedule an appointment for a consultation. You can also learn more about this topic by reading the Dear Doctor magazine article "Exposing Impacted Canines."